What Is A Dental Bridge?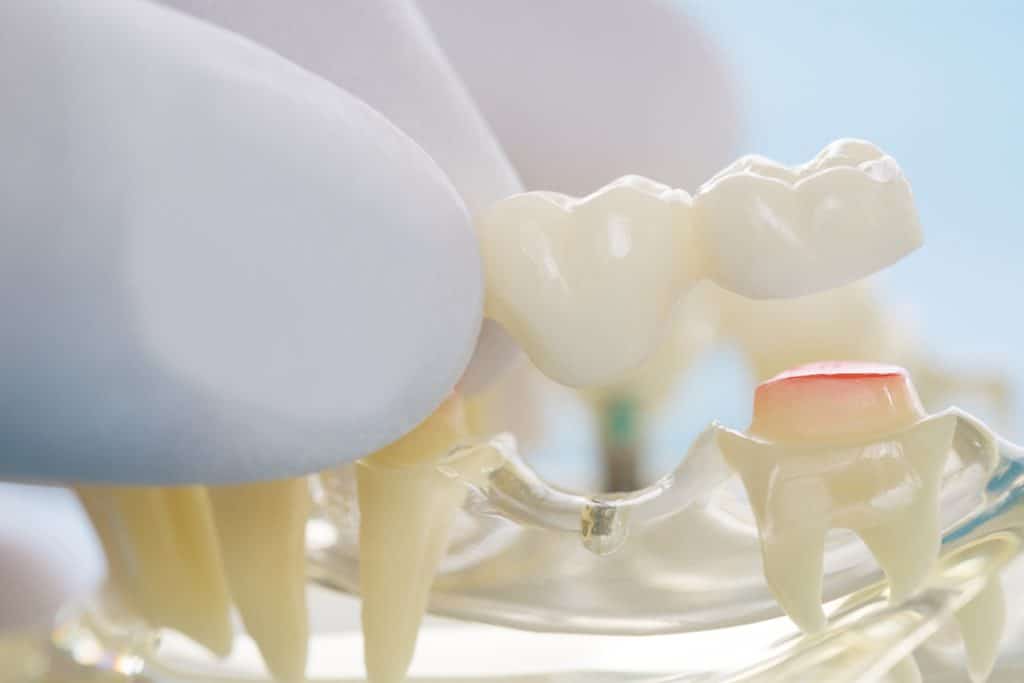 If you're missing teeth, one option to fill the gap may be a dental bridge. A dental bridge is an artificial tooth or teeth that is held in place by attaching to the teeth (or crowns) next to the gap. Indeed, a dental bridge literally bridges the gap you have from a missing tooth. Candidates for dental bridges will need to have relatively healthy gums, good jaw bone density (if opting for an implant supported bridge), strong teeth that are not in a state of decay, and relatively good health overall. However, only your dentist can confirm if a dental bridge is the best restorative dentistry procedure for your needs.
Types of Dental Bridges
There are four main types of dental bridges. Oakland Dental Care will help you to determine the type best suited for you. 
Traditional Bridge
As its name implies, a traditional bridge is the most common type of bridge. A traditional bridge will affix to crowns on either side of the gap. 
Cantilever Bridge
A cantilever bridge is only supported on one side of the gap. This type of bridge is not for everyone, as it is not as secure as a traditional bridge.
Maryland Bridge
A Maryland bridge is similar to a traditional bridge. However instead of attaching to crowns on either side of the gap, it is attached to the natural teeth.
Implant Supported Bridge
This type of bridge is particularly useful if multiple, consecutive teeth are missing. In this case, a dental implant can be used to support one end of the bridge. Implant supported bridges tend to be very secure.
What To Expect During The Procedure
The full procedure for a dental bridge may take several appointments, depending upon the type of bridge you are getting. During the first appointment, expect your dentist to numb the area around the teeth or crowns (known as abutment teeth) that will be used to secure the bridge. Then these teeth will be filed into the proper shape to be able to support your bridge. An impression or digital scan of your teeth will be taken to be sent to the lab to have your bridge made. You will be given a temporary bridge in the meantime, to protect the teeth that have been filed.
Once your bridge has come in, you'll return to have the permanent bridge affixed. After the removal of your temporary bridge, your teeth may need to be cleaned. Then your bridge will be cemented in and adjusted for proper fit. You will then be scheduled for a follow-up appointment to make sure that the bridge is comfortable.
Benefits of Dental Bridges
In addition to improving the appearance of your smile, a dental bridge can provide many other benefits.
Improved self-confidence

Reduced pressure on your teeth

Better alignment of teeth

Less drooping in your cheeks or face

Easier chewing and speaking
Best Dental Treatment for Missing Teeth in Oakland, NJ
At Oakland Dental, we are here to help you achieve a gorgeous smile. Our dental practice provides complete cosmetic and restorative dentistry in addition to general dentistry for all ages. If you're missing one or more teeth, schedule a consultation today to learn more about dental bridges and dental implants. We are here to help you create the smile you've always wanted. Call 201-337-7733 or request an appointment online.
Recent Posts
Contact Us
Oakland Dental Care
393 Ramapo Valley Road
Oakland, NJ 07436
Monday | 10am - 8pm
Tuesday | 9am - 6pm
Wednesday | 8am - 4pm
Thursday | 8am - 6pm
Friday | 8am - 1pm
Sunday | Closed
Saturday | Closed